The Ultimate Halloween Craft Round-Up
I'll be honest with you. I'm not a huge fan of Halloween. It was never my favorite holiday, but given the spirit of the season and because it is the ultimate kid holiday, I figured I would celebrate like it's 1999! I put together a round-up of more than 25 cute and fun Halloween decor projects and craft ideas that add to the celebration of the spookiest holiday around. You have to check these out!
I love these bat silhouette cutouts because they are a simple way to add spookiness to any part of your home.
This trick-or-treat bag is easy to make and durable for major candy runs. It's versatile too! If bats aren't your thing, you could easily make a pumpkin or ghost!
These ghosts in jars are some of the cutest Halloween crafts I've seen so far. They're easy to make too!
If you're into vintage vinyl, these boogie bones will be your style. This garland will have you singing spooky songs!
Aren't these pumpkins adorable? They make me happy. Dimple Prints didn't just make pumpkins either. You can find a ghost, Frankenstein, and bats too!
I'm a sucker for sticks used in home decor, and that's what makes me love this little tree the most. Add some colorful yarn pom poms and I'm sold!
This spiderweb window isn't your typical webbing. Yarn was used to make the perfect portrait of a spider and its web. It's an easy and cheap decor idea.
These ghost gourds are so simple it's scary! All you need is some paint and cheesecloth!
Here's some more cheesecloth ghosts of a different style because no ghost is the same and cheesecloth really IS the best way to make a ghost!
These pillows are another simple project to decorate your home with for Halloween, and they have glitter! Count us in!
If you're entertaining for Halloween, this table runner from Oh Joy! is perfect for the occasion! It would make a great runner at a kid's school Halloween party.
These candy corns made out of 2x4 blocks are the perfect addition to any Halloween decor!
This Halloween door sign has the best of everything. It has pumpkins, black and white stripes, and lights!
While this shadowbox is intricate to make, the results are too cute to overlook!
This craft is basic and simple. It's easy for kids and if you make a lot of them, you can hang them all around the house!
These spiders won't make you scream "EEK!!!" They might make you say "Awwww!" Yeah, they're that cute.
I love these little guys! They kind of remind me of Cousin Itt from the Addams family, only cuter. Grab some white yarn and you're well on your way to this garland!
As a book lover, this Halloween banner speaks to my heart. Go to the thrift store, find an old book, and rip out its pages (one of the rare moments I will say that). You're going to need them to make this project work. The older the book, the better!
I know this may sound crazy, but Halloween shares some traits with Christmas - it's all about the lights! Who doesn't love a jack o'lantern? There are orange LED lights everywhere! Thankfully, you're not limited to orange everything! These Halloween mummy lights are perfect!
...And if orange is your thing, these mason jar luminaries are fantastic! BOO!
Burlap is all the rage these days and this wreath is a perfect example to why it's so popular! It's stylish, but you may have to be careful while making it, because burlap can unravel quickly.
These candle jackets are versatile and timeless. It made me realize that this craft can be used for any holiday. You could paint a different set of jackets for every day you celebrate! I will definitely be looking into it.
This banner is another one I'm a huge fan of because it looks rustic. I'm always amazed by how simple some of these crafts are!
This is for the fun loving ladies out there. This headband is perfect to wear for work and show your Halloween spirit.
I am in love with everything about this bunting. The bats are perfect. The buttons are cute. The trimmed pages make it unique, and it looks wonderful against the rock wall.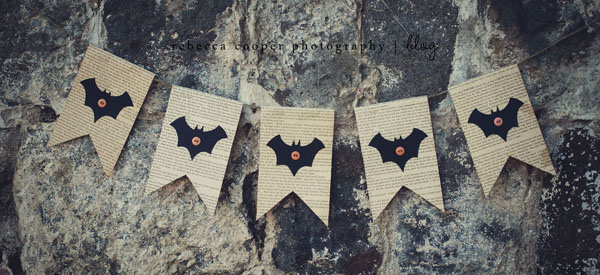 If you have a pet, you probably have a lot of empty food cans laying around. You could just recycle them, or you could use them to make these fun hanging pumpkins!
Find some cheap plates at the store, cut out some spooky designs, and prepare to deck out your home right with this DIY!
These simplistic and easy to make wooden ghosts would make an adorable addition to your Halloween decor.
Another simple project that utilizes leftover wood pieces. These would look great in a fall vignette.
Here's a playful Halloween twist on a traditional footprint sign. I recommend adding the year it was made in the corner to help remember your little one's age.
Even your bathroom can be decorated for the holiday with this unique orange and black shower curtain.
Do you have any recommendations for other cute Halloween crafts?
Follow the Goedeker's Home Life board on Pinterest for more awesome images!
Follow Goedeker's's board Goedeker's HomeLife on Pinterest.