DIY Christmas Craft Round-Up
"Rockin' around the Christmas tree," "Chestnuts roasting on an open fire," "Have yourself a merry little Christmas..."  
Everyone says it's the most wonderful time of the year, and I'll have to agree! With hot cocoa in one hand and scissors in the other, I've been a shopping, crafting, singing, decorating bundle of Christmas joy! I'm not sorry either. The grinches can just head right back up their mountain because this little Who from Whoville isn't letting anything ruin her Christmas season!
So, who's ready for some of the best Christmas crafts and DIY's ever!? I've already made the peppermint bath salts as several gifts for the women in my family, and you know I couldn't resist trying them out for myself! You can read all about it below!
Did you know you can make your own bath salts? It never occurred to me until I found this post by the Frugal Girls! I thought they looked like the perfect stocking stuffer for the women in my family, so I decided to test them out. Long story short... they were amazing and I made five full mason jars to give as gifts!
Glitter and gold is almost synonymous with the Christmas season, so why not cover jars with it to make the glitziest vases around? These are perfect for building a beautiful Christmas centerpiece.
Look at these little guys! Don't you want to just grab em' up and give em' a hug? These would be perfect with a little fake snow around them in a child's room or right in the living room. Either place is a great choice!
Ever wonder what to do with old cereal boxes? These cardboard Christmas trees are a great way to add lovely decorations to your home and reuse materials you already have!
I remember making these ornaments as a kid with my mom and grandma! It was such a special time! We made basketballs, gingerbread men, and all sorts of little doodads! I recall wanting to eat them, which of course, you can't! Still, this is a great craft for everyone in the family. You can make anything you want with salt dough!
These simple Christmas trees by Scissors and Spoons would make a perfect gift for your kids' teachers! You could also use them to decorate your own office or home. They are simple and unique.
I love bringing in natural, earthy tones for Christmas, and this twig snowflake fits the bill perfectly! You can find this stuff right in your front yard or at the local park! That's as free as it gets! It's an easy tutorial too!
These waterless snow globes are versatile and easy to make! You can create any scene you want, from classics like Charlie Brown's Christmas to animals in the frozen tundra!
I had to include this ornament craft because everyone loves donuts. Why not have one gracing your tree for the Christmas season?
If you're looking to add a rustic vibe to your Christmas decor this year, try making these twine trees! They're really easy to make!
This ornament is one of my favorites. I used to love cross-stitching, but I stopped because it was time-consuming and life was busy. Still, I would love to make one of these with Missouri on it!
This little woodland necklace wasn't created specifically for Christmas, but it feels Christmas-y to me and I think it would make a lovely ornament for the tree! Like the snow globes above, you can be creative and do whatever you want with it! Any Christmas scene would look wonderful!
In need of a new stocking? Don't pay money for something you can make! This stocking made of sweaters will cost you nothing and last for years to come!
These pillar candles aren't dedicated to Christmas, but they're a perfect addition to that rustic, earthy vibe, if you're going for that look.
Christmas cards are a huge part of the holiday season, so why not display them in a creative way? This DIY card holder is super cute!
Here's another awesome way to reuse old clothes you may have laying around. These cloth snowflakes are perfect for hanging on the tree or from the ceiling, and no one says they have to be white! You could use red and green for a festive look as well!
This block style manger scene is simple and modern. It could be a great, easy-to-create addition to your home!
Tape it. Roll it in some glitter. Voila! Now you have a cheap, glam tree for your mantel! Make three or four to get the full effect!
This snowball wreath isn't made of actual snowballs, but it's still one of the coolest wreaths you'll see this season! The best part is you can make one of your own!
This cardboard box tree is unlike anything I've ever seen. It's totally unique and a great substitute for the real thing!
I love these place mats because they're open to so much creativity! You could make a stencil for anything you wanted! These are my favorite kinds of crafts because you have the power to do whatever you like!
I don't know what it is about snowflakes, but I love them! As long they don't accumulate into four feet wonderland, I'll keep making snowflakes in every fashion, from t-shirt scraps to Popsicle sticks!
This little branch tree is cute, easy-to-make, and a fun change-up from traditional tree decor.
Here's more scrap fabric for cool Christmas decor! This little Christmas tree made out of balls of fabric is very homey.
You won't need a Christmas tree skirt with this tree base idea! Make your tree look just like another present! I love this creative idea!
These glittered ornaments are such a cool way to add individuality to your tree! You could put your name on the outside, or stick with traditional words like joy, hope, and love.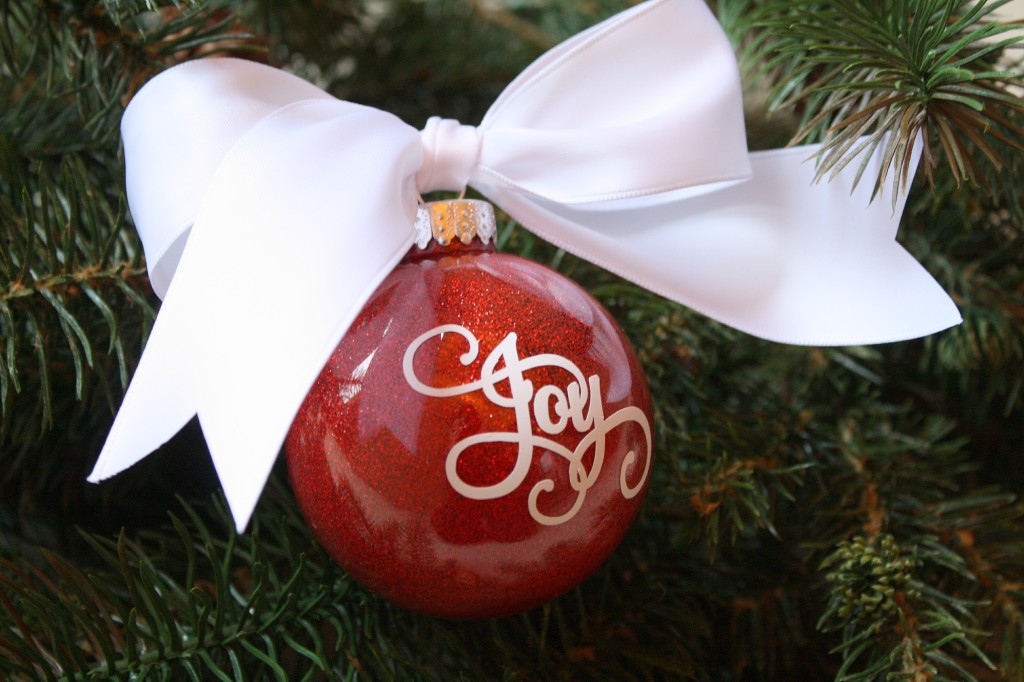 What do you think? Is this an awesome round-up or what!? Let us know which one is your favorite!